Las Vegas Helicopters to the Grand Canyon

Las Vegas helicopter tours to the Canyon range from air-only to landing.
Tours that land are unique because they are only available in Vegas.
Best time of day to fly is mid-morning and sunset. Cheapest rate is the "early bird" fare at 7 a.m.
Consider departing from Las Vegas (v.s. Boulder City) as these flights include limo service & a tour over The Strip.
- Keith
NOTICE: Helicopter tours often sell out. Purchase tickets 1-2 weeks in advance. Book online for lowest price. Must complete booking on Web to qualify for Internet discount. If you need a tour in the next 72 hours, Please contact Keith at (702) 530-8687 or click Live Chat for immediate assistance.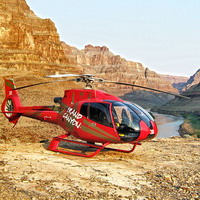 #1
Land on Bottom
This is the most popular landing tour from Las Vegas. It goes over Lake Mead, Hoover Dam and the Colorado River before landing 4,500 feet on the bottom for a Champagne picnic. Get up to 30 minutes of "bottom time," which is plenty to include a stroll to the River. Like all landing tours, this one features the superior EcoStar 130 helicopter. Please book in advance as it will sell out.
Total time: 4 hours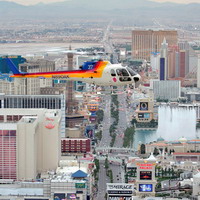 #2
Land on Bottom + The Strip (Best Value)
This tour is the same as the basic bottom landing PLUS a stretch limousine for hotel pick up/drop off. It also departs from the Las Vegas heliport, located a mere 10 minutes from all major Strip resorts. On the return, you fly over the Las Vegas Strip. This tour costs more but add up all the perks and it's a terrific value. Seating is limited so book in advance.
Total time: 4 hours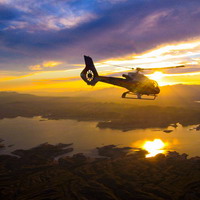 #3
Land on Bottom Sunset + Vegas Strip + Limo
This is the sunset version of the Champagne sunset landing tour. Departs mid-afternoon and gets you to the bottom during the "golden hour." Fly back as sun goes down on the Canyon. Make a dramatic flight over Las Vegas before landing. This trip departs from Las Vegas and includes limousine pick up/drop off.
Total time: 4 hours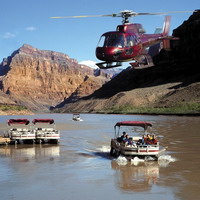 #4
Land on Bottom - Boat & Skywalk (3-in-1)
This package is often referred to as the 3-1 tour. Helicopter to bottom of Grand Canyon. Take a Colorado River boat cruise. Get back in aircraft and land on top of West Rim. Spend up to 2.5-hours exploring the Park. Includes VIP Grand Canyon Skywalk tickets. This is the only tour that combines the bottom and the top of the Canyon with the Skywalk.
Total time: 6.5 hours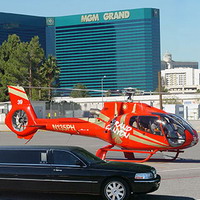 #5
Air-Only w/ Limousine & The Strip
Vegas' most popular aerial tour. Includes hotel limousine pick up/drop off. Fly over Lake Mead, Hoover Dam, the Skywalk and the Grand Canyon. On the return, fly from the north end of The Strip to the south before landing. When it comes to air-only tours, this one's the absolute best value!
Total time: 3.5 hours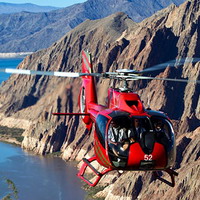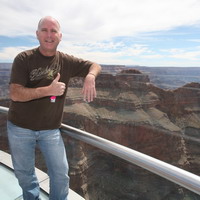 #7
Skywalk Helicopter
Quickest and most thrilling way to visit the Grand Canyon Skywalk. Fly over Lake Mead and Hoover Dam before landing on top of the West Rim. Deplane and go to the head of the line with your VIP Skywalk tickets. Up to 2.5-hours to explore. Spend it all at the Glass Bridge or visit Guano and Eagle Point via the Park's free shuttle service.
Total time: 5.5 hours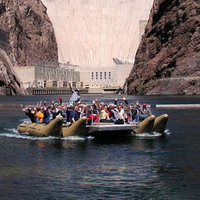 #8
Helicopter & Rafting
This 1-day smooth-water rafting tour starts with a helicopter ride to the bottom of the Grand Canyon. Then you'll go to the base of Hoover Dam and start the 11-mile cruise down the Colorado River to Willow Beach. Includes free hotel pick up/drop off, lunch and all taxes, fees and gear.
Total time: 10 hours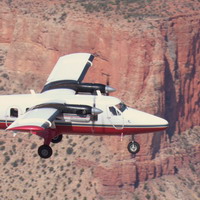 #9
South Rim Airplane w/ Helicopter
Helicopters don't fly to the South Rim so take this airplane tour. Makes the trip in under an hour (compared to 5.5 hours on the ground!). Deplane and take 30-minute rim-to-rim helicopter ride. Transfer to deluxe tour bus and take 2.5-hour National Park ground tour (includes Visitor's Center, Mather Park, Grand Canyon Village and more).
Total time: 9.5 hours