Deluxe Helicopter Tours

Deluxe flights use the superior EcoStar 130 helicopter (180-degree wraparound windshield, stadium-style bucket seats). Further, most flights from Vegas include hotel transfer by limousine and an extended tour over the fabulous Las Vegas Strip. - Keith
From: Las Vegas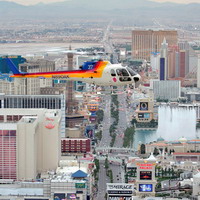 Bottom, Limo, Strip

tour #1
This tour is the best value. Departs from Vegas. Goes over Lake Mead, Hoover Dam. Lands at bottom for Champagne picnic. Includes Vegas Strip tour, limousine hotel pick up/drop off.

Duration: 4 hours
Hotel transfer: Limousine
Helicopter: EcoStar 130 (6 seats)
Price: Includes all taxes, fees & fuel surcharges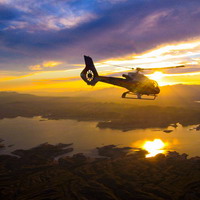 Bottom, Limo, Sunset Strip

tour #2
Go to the bottom of Grand Canyon at sunset! Fly over Lake Mead, Hoover Dam. Descend to bottom and land for Champagne picnic. Includes tour over The Strip, limousine service to/from hotel.

Duration: 4 hours
Hotel transfer: Limousine
Helicopter: EcoStar 130 (6 seats)
Price: Includes all taxes, fees & fuel surcharges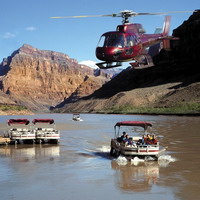 Bottom, Top, Boat, Skywalk

tour #3
Most comprehensive tour avaialble. Very limited seating. Fly from Boulder City. Go over Lake Mead, Hoover Dam. Land at bottom. Do Colorado River boat ride. Land on top. Do the Skywalk. Includes up to 2 hours to explore West Rim, lunch and hotel shuttle service.

Duration: 6.5 hours
Hotel transfer: Sprinter Van
Helicopter: EcoStar 130 (6 seats)
Price: Includes all taxes, fees & fuel surcharges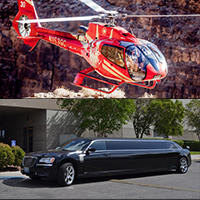 Flyover, Limo, Strip

No Landing
tour #4
Vegas' most popular aerial tour. Includes hotel limousine pick up/drop off. Fly over Lake Mead, Hoover Dam, the Skywalk and the Grand Canyon. On the return, fly from the north end of The Strip to the south before landing. When it comes to air-only tours, this one's the absolute best value!

Duration: 3 hrs.
Departs: Las Vegas.
Hotel pick-up: Yes. Limousine.
Meal: No.
Helicopter: EcoStar 130 (6 people).
Refunds: 100% bad weather or 24-hour cancel.
Price: Includes all taxes, fees & fuel surcharges.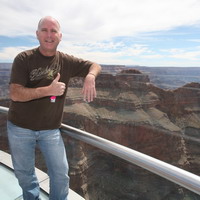 Skywalk, Strip

tour #5
Fastest way to the Skywalk. Direct flight from Vegas. Go over Lake Mead, Hoover Dam. Land on top of West Rim. Do VIP Skywalk tour. Up to 2 horus to explore the Rim, then take tour over The Strip.

Duration: 4.5 hours
Hotel transfer: Limousine
Helicopter: EcoStar 130 (6 seats)
Price: Includes all taxes, fees & fuel surcharges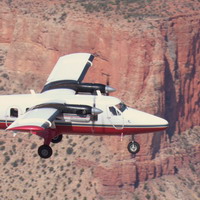 South Rim Plane, Heli, Bus

tour #6
The fastest way to South Rim from Vegas. Land at Tusayan, AZ. Transfer to helicopter. Do rim-to-rim flight. Transfer to bus and do 2.5-hour tour that includes all the Rim's most famous landmarks and lookouts.

Duration: 9.5 hours
Hotel transfer: Sprinter Van
Airplane: deHavilland Twin Otter (19-seat)
Helicopter: Bell Ranger (6 seats)
Price: Includes all taxes, fees & fuel surcharges


From: South Rim, Arizona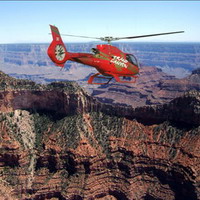 30-Minute

tour #7
Cheapest option. Goes from South Rim to North Rim and back. Flies through the famous Dragoon Corridro, which is the widest, deepest section of the Canyon. Excellent views of the Colorado River and key Park landmarks.

Duration: 30 minutes
Helicopter: EcoStar 130 (6 seats)
Price: Includes all taxes, fees & fuel surcharges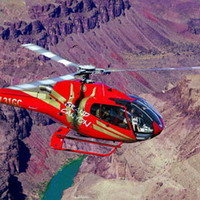 50-Minute

tour #8
The #1 option. Includes everything the Dragoon Corridor, Colorado River, North Rim and everything up to the Park's eastern boundary. Do this tour and you'll have seen up to 75% of the National Park!

Duration: 50 minutes
Helicopter: EcoStar 130 (6 seats)
Price: Includes all taxes, fees & fuel surcharges



Deluxe tours sell out. Purchase tickets 1-2 weeks in advance. Book online for lowest price. Must complete booking on Web to qualify for Internet discount. Prices subject to change. If you need a flight now or within 72 hours, call me at 702-530-8687 or click here to chat. - Keith